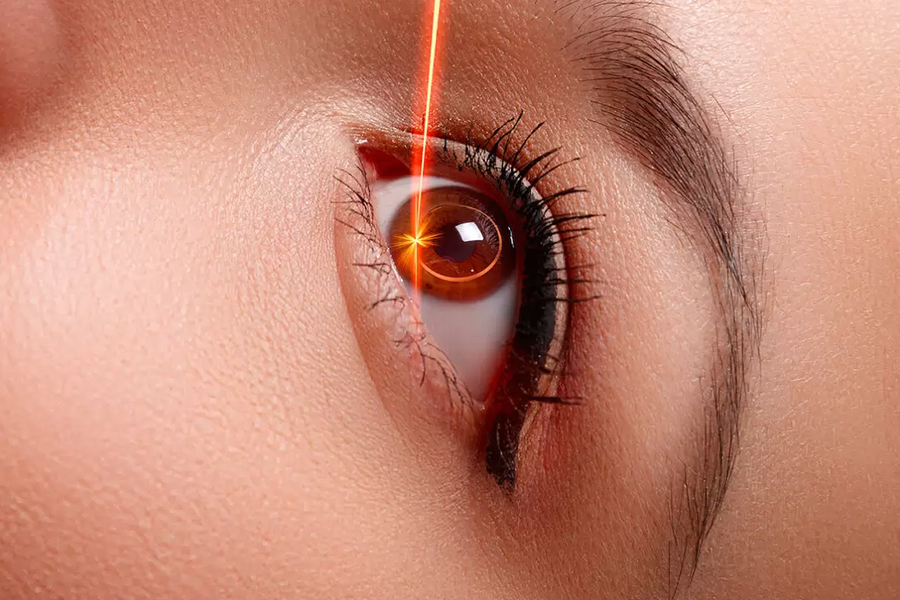 What is Lasik Surgery?
LASIK surgery, short for "Laser-Assisted In Situ Keratomileusis," is a type of refractive eye surgery used to correct vision problems such as nearsightedness (myopia), farsightedness (hyperopia), and astigmatism. It is a popular procedure aimed at reducing a person's dependency on glasses or contact lenses.
During LASIK surgery, a microkeratome or femtosecond laser is used to create a thin flap on the cornea. The surgeon then lifts the flap and uses an excimer laser to reshape the underlying corneal tissue. The laser removes microscopic amounts of tissue to change the cornea's shape, allowing light to be properly focused onto the retina, resulting in improved vision.
LASIK surgery is known for its quick recovery time and high success rate. It is typically performed as an outpatient procedure, and most patients experience improved vision within a few days or weeks after the surgery. However, like any surgical procedure, LASIK also carries potential risks and complications, so it is important to consult with a qualified eye surgeon to determine if it is the right option for your specific vision needs.
Is Lasik Surgery Painful?
During LASIK surgery, the majority of patients do not experience pain or discomfort. Before the procedure begins, anesthetic eye drops are applied to numb the eyes, ensuring a painless surgical experience. Some patients may feel a slight pressure or a sensation of something touching the eye, but it is generally not painful.
After the surgery, it is common to experience some temporary discomfort, such as dryness, itching, or a foreign body sensation in the eyes. These symptoms can typically be managed with prescribed eye drops and over-the-counter pain relievers. However, each individual's pain tolerance and recovery experience may vary.
It is important to follow the post-operative care instructions provided by your eye surgeon to minimize any potential discomfort and promote healing. If you have any concerns about pain or discomfort during or after LASIK surgery, it is best to discuss them with your eye surgeon, as they can provide specific guidance based on your situation.
How Long Does Lasik Surgery Take?
The actual LASIK surgery itself is a relatively quick procedure that usually takes around 10 to 15 minutes per eye. However, it's important to note that the overall time spent at the surgical facility will be longer due to pre-operative preparations and post-operative evaluations.
Before the surgery, you will undergo a thorough examination and consultation with your eye surgeon to ensure you are a suitable candidate for LASIK. On the day of the surgery, you may need to arrive earlier to complete necessary paperwork and receive instructions.
During the surgery, each eye is treated separately. The laser portion of the procedure typically lasts only a few minutes per eye. However, additional time is needed for the preparation of the eye, such as applying anesthetic eye drops and creating the corneal flap.
After the surgery, you will be monitored for a short period to ensure everything is stable, and your eye surgeon will provide post-operative instructions. It's important to plan for some rest and recovery time following the procedure, as your eyes may be sensitive, and you may experience temporary visual fluctuations.
Overall, while the LASIK surgery itself is brief, it's advisable to allocate a few hours for the entire process, including pre-operative preparations and post-operative care.
What should be done after Lasik Surgery?
After LASIK surgery, it is crucial to follow the post-operative instructions provided by your eye surgeon to ensure proper healing and minimize any potential complications. Here are some general guidelines that are typically recommended:
1. Rest and recovery: Plan to take it easy for the first day or two after surgery. Avoid any strenuous activities, such as exercise or heavy lifting, that could strain your eyes.
2. Use prescribed eye drops: Your surgeon will prescribe antibiotic and anti-inflammatory eye drops to prevent infection and reduce inflammation. Follow the recommended dosage and frequency as instructed.
3. Avoid rubbing your eyes: Refrain from touching or rubbing your eyes, as this can disrupt the healing process and increase the risk of infection.
4. Wear protective eyewear: Use protective eyewear, such as goggles or sunglasses, especially during activities that may expose your eyes to dust, wind, or bright sunlight.
5. Follow hygiene practices: Maintain good hygiene by washing your hands thoroughly before applying eye drops or touching your eyes.
6. Attend follow-up appointments: Attend all scheduled follow-up visits with your eye surgeon to monitor your healing progress and address any concerns.
7. Avoid swimming and hot tubs: Refrain from swimming or using hot tubs for a few weeks after surgery to prevent the risk of infection.
8. Limit screen time: Initially, it is advisable to limit excessive screen time, including computer, mobile phone, and television use, as it can strain your eyes. Gradually, you can increase your screen usage as your eyes feel more comfortable.
9. Protect your eyes at night: Wear protective eyewear, such as eye shields or goggles, while sleeping to prevent accidental eye rubbing or any external pressure on the eyes.
It's important to note that these guidelines are general, and your specific post-operative instructions may vary. Always consult with your eye surgeon for personalized advice and recommendations based on your individual healing process and any specific circumstances.
What are Lasik Surgery Prices in Turkey ?
The prices of LASIK surgery in Turkey can vary depending on several factors, including the clinic, the surgeon's expertise, the type of LASIK procedure, and any additional services included. Generally, LASIK surgery prices in Turkey are more affordable compared to many other countries.
To provide a rough estimate, the cost of LASIK surgery in Turkey can range from approximately $800 to $2,500 per eye. However, it's important to note that these are approximate figures and the actual prices may vary. It's recommended to research and contact different clinics in Turkey to get accurate and up-to-date pricing information, as well as to inquire about any package deals or promotional offers that may be available.
When considering LASIK surgery, it's crucial to prioritize the qualifications and experience of the surgeon and the reputation of the clinic, in addition to the cost. Ensure that the clinic meets international standards of quality and safety, and that the surgeon is well-experienced in performing LASIK procedures.
Furthermore, it's important to factor in additional costs such as pre-operative examinations, post-operative medications, and follow-up visits when determining the overall cost of LASIK surgery in Turkey.